Hidden Objects Mysterious Artifacts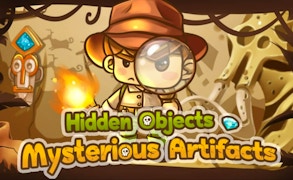 Hidden Objects Mysterious Artifacts
Imbued with the spirit of exploration, Hidden Objects Mysterious Artifacts is a must-play for all adventure aficionados and hidden object games enthusiasts. The game casts you into the exciting world of Billy the Treasure Hunter on a quest to uncover ancient artifacts buried in time and mystery.
The complexity and allure of this stimulating addition to skill games stem not merely from its exciting storyline but also from its immersive gameplay. Over 50 enthralling objects lie hidden across the game with a smorgasbord of fascinating items such as jewels, ancient scrolls, and magic staffs forming part of your treasure trove.
Each item you uncover in this hidden object game ties into a broader narrative that keeps you hooked on an adventure that's as much about discovering an intricate narrative tapestry as it is about satisfying an indomitable curiosity. Imagine yourself as an intrepid Indiana Jones, sifting through layers of history while unraveling a captivating story.
If you stumble upon a particularly challenging artifact or riddle, don't despair! In the face of adversity, Billy can summon the power of hints, earned via hint points (keys), adding another layer to this already diverse skill game. With nine challenging levels, across three distinct settings, there's no shortage of gripping gameplay that will test your detective skills to their limits.
Brimming with discovery and packed full of engaging challenges, Mysterious Artifacts is more than just another addition to hidden object games - it's a compelling narrative experience wrapped around a core of meticulously designed and interactive artifacts.
So gear up for an epic journey with Billy throughout this enthralling skill game that delivers nail-biting excitement at every turn. Whether you're seasoned in the genre or looking to dive into adventure gaming for the first time, take our word – Hidden Objects Mysterious Artifacts is an adventure you don't want to miss!
What are the best online games?