Hidden Investigation: Who Did It?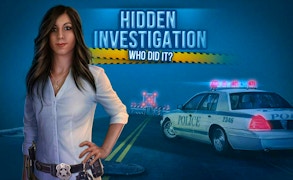 Hidden Investigation: Who Did It?
The telltale world of adventure games welcomes another brilliant installment with the title 'Hidden Investigation: Who Did It?'. This riveting game hooks you right from the start, immersing you in its mysterious world where secrets, betrayals, and thrilling investigations are everyday business. The game is a captivating blend of hidden object games, police games, and clicker games that pushes the boundaries of interactive storytelling.
Player don the role of Agent Sarah, a renowned police detective put on a task to solve an inscrutable case revolving around the mysterious disappearance of Lacy Monroe. Agent Sarah's investigation takes her on a wild ride through an assortment of beautifully crafted puzzles and exotic locales teeming with hidden objects waiting to be discovered.
The game's core mechanic revolves around classic elements of hidden object games. Every crime scene presents a new challenge for players to prove their prowess in meticulously scouring the scene for clues. At the same time, it also allows you to channel your inner detective by giving you freedom to control your investigation method.
The game also shines with its character interactions. Each character you meet is enigmatic and adds depth to the narrative. The dialogues are intriguing and ask for your complete attention.
The combination of police games mechanics with addictive clicker games' aspects makes 'Hidden Investigation: Who Did It?' stand out from the crowd. The more you play, the deeper you dive into its immersive storyline - always wondering what's next? Be prepared for twists and turns that make this seemingly simple 'game of chess' a whole lot more complex - hence enjoyable.
In summary, this is an unmissable quest for any fan of adventure, hidden object or police-themed games. It's not just about finding objects or clicking buttons; 'Hidden Investigation: Who Did It?' is about unraveling secrets, making tough choices and achieving victory in an unpredictable virtual world.
What are the best online games?