Hetto 2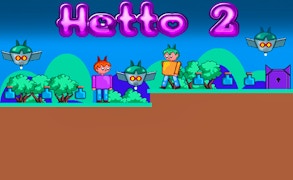 Hetto 2
Description
In Hetto 2, you embark on a thrilling adventure in a dynamic 2D platformer setting. Your goal is to navigate through challenging levels, collecting magic potion bottles while dodging obstacles such as deadly spikes, flying robots, and enigmatic enemies. With each success, you will unlock the exit door and face an even more engaging level. The stakes rise higher as you advance in this captivating sequel to the original Hetto game.
How to Play
Controlling the game is simple but it requires precise timing and agility. Use "WASD" or "Arrow" keys for movement. To jump over obstacles or reach higher platforms, press the "W" or "Up" arrow key twice for a double jump. Remember that your mission is to collect all magic potions and reach the exit door within each level.
Tips and Tricks
Mastering the double jump is crucial for overcoming higher obstacles and evading flying robots. Be vigilant of your surroundings to predict enemy patterns and avoid untimely encounters. Collecting all potions swiftly enhances your chances of progressing through levels quicker.
Features
Sleek 2D platformer gameplay with vibrant graphics.
Diverse set of challenges across eight levels of increasing difficulty.
Intense enemy encounters with flying robots and other hazards.
Mastery-based gameplay requiring precision jumps and quick reflexes.
An exciting progression system where collecting potions unlocks new levels.
What are the best online games?