Help imposter escape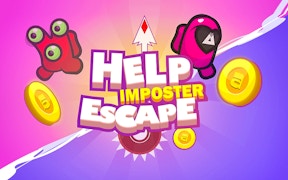 Help imposter escape
Dive into the maze of excitement with Help Imposter Escape, a standout addition to the adrenaline-fueled world of Escape Games and Survival Games. This gripping adventure game offers 50 pulsating levels that test your mettle, offering not only a thrill ride but a veritable boot camp in sharpening your Skill Games prowess.
The game lures gamers into an uncanny dimension where the imposter is lost. With no way out in sight, it's up to you to guide him; an electrifying premise that sends chills running down your spine. The heart of the game lies in its spirit of relentlessness, reminding us that the main thing is not to give up. Even when all odds seem stacked against you, remember - nothing is impossible!
Alluding to its vast replayability potential are a variety of skins waiting to be unlocked. In Help Imposter Escape, every triumph brings with it a fresh skin, rewarding your steely determination with stylish aesthetics that let you strut around the menacing dimension in style.
The game's challenge level may seem daunting at first glance. However, it's this very difficulty that beckons you into its labyrinth of fun. The sense of accomplishment on nailing a difficult level after numerous attempts is unprecedented and adds an extra layer of allure to the game.
In conclusion, Help Imposter Escape is not just another amalgamation of escape and survival games; it's a testament to human tenacity, a thrilling nod to our intrinsic love for challenges. If you yearn for an adventure game that not only entertains but also pushes you beyond your limits, look no further!
What are the best online games?