Helle Bot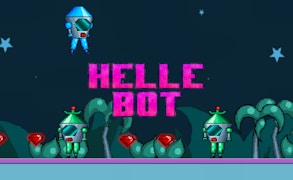 Helle Bot
Description
Embark on an exciting cosmic journey with Helle Bot, a 2D platformer set in the intriguing world of science fiction. Take control of a bot on a mission to gather valuable red gems, contending with rival bots, perilous obstacles, and hazardous environments. With an ongoing rise in difficulty across its eight levels, this game guarantees a challenging but exhilarating adventure.
How to Play
The game controls are easy to grasp: use the 'WASD' or 'Arrow' keys to navigate your bot through the levels. To overcome larger obstacles in your path, utilize the double jump feature by pressing the 'W' or 'Up' arrow key twice in rapid succession. Your ultimate goal is to reach the Exit door safely.
Tips and Tricks
Always be on the lookout for enemy bots and bullets - their sudden appearance can often catch players off-guard. Timing is essential when using the double jump; use it wisely to dodge threats and cross gaps. As levels progress, they become increasingly more difficult, so plan your moves critically.
Features
Vivid sci-fi inspired 2D graphics.
Diverse enemies and challenging obstacles provide a rich gaming experience.
An escalating difficulty curve keeps each level fresh and exciting.
The mechanics of double jumping add an extra layer of strategy to gameplay.
.
What are the best online games?