Helicopter Escape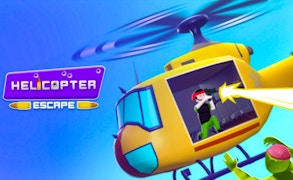 Helicopter Escape
Immerse yourself in the high-octane world of Helicopter Escape, the latest addition to the action-packed realm of escape games. This adrenaline-inducing amalgamation of helicopter games, gangster games, and gun games serves as a thrilling playground for all seasoned gamers.
All you trigger-happy aficionados out there, get ready to step into your virtual helicopter, gear up with your favorite rifle, and teach those rogue criminals a lesson. The core objective? A daring escape that combines the skill-based challenges expected from top-notch skill games.
In this riveting narrative, you are not just flying a helicopter; you are tasked with a heroic mission. A hostage is at stake, and your chopper's firepower is the only thing standing between them and doom. So, buckle up and prepare for an aerial battle that rivals the finest monster games.
Your enemies are no ordinary thugs; they're hardened gangsters straight out of intimidating gangster games. Your task is to lay waste to their plans and save the day. Remember, in this volatile game universe where peril awaits at every turn - there's no room for error!
Helicopter Escape is not just another addition to your collection of helicopter or gun games. It's an audacious roller-coaster ride that guarantees hours of relentless gaming fun. Strap in folks, it's time for liftoff! Ascend into chaos and bring order back through strategic play in one of this year's most anticipated action-packed thrillers.
What are the best online games?