Hekov Bot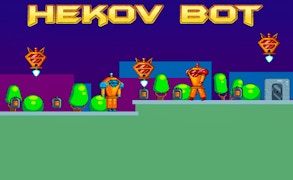 Hekov Bot
Description
Embark on a thrilling sci-fi adventure with Hekov Bot, a 2D platformer filled with action and peril. As the robotic protagonist, your mission is to reclaim all the battery cells scattered across eight progressively challenging levels. Dodge enemy bots, evade their perilous projectiles, and sidestep deadly spikes on your quest for the exit door in this daring tower of arcade delights.
How to play
The game controls are straightforward. The "WASD" keys or "Arrow" keys maneuver Hekov Bot across the platform. A double jump can be achieved by quickly pressing "W" or the "Up" arrow key twice in succession. The exit door signifies the completion of current level and passage to the next, but opening it requires the successful collection of all battery cells.
Tips and Tricks
Evasion is as important as collection. Strategically timed jumps can help dodge bullets and bots alike. Also, make full use of double jump to reach higher platforms or over bigger obstacles. Keep an eye out for patterns in enemy movement—anticipation can be key to survival in later levels of Hekov Bot.
Features
Action-Packed Gameplay: Fast-paced platforming with numerous obstacles.
Diverse Levels: Eight different levels each providing unique challenges.
Simple Controls: Intuitive controls for easy pick-up-and-play experience.
Clever Enemies: Cunning adversaries that increase in intelligence as you progress.
What are the best online games?