Heart of Iona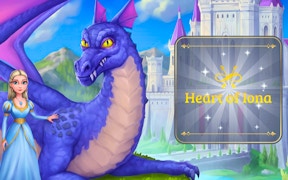 Heart of Iona
Unleash the princess within you while navigating through the magical journey of Heart of Iona, an entrancing game that has transformed the genre of Games for Girls. Venture into the enthralling world of narrative gameplay where each choice you make can rewrite the destiny of a kingdom.
The highlight of this captivating game is its ability to intersect trivia games and dragon games, creating a one-of-a-kind gaming experience. It all begins on the day of Ella's coronation when her castle faces an unexpected threat. An accidental stumble leads you into a concealed chamber housing an imprisoned dragon. By choosing to aid this mysterious creature, you ignite a succession of adventures that sweep you across the Kingdom of Iona.
The essence of Heart of Iona lies in its interactive story-telling, giving players the reins to influence its narrative. A once solemn coronation day soon morphs into a roller-coaster ride of unexpected twists and turns as Ella stumbles upon secrets and uncovers hidden truths about her kingdom.
The true magic ignites when Ella realizes the power residing in her heart - it's capable of altering Iona's fate. This engrossing narrative paired with stunning graphics, will keep young gamers on their toes, providing them with a totally riveting gaming experience.
Heart of Iona is more than just another addition to dragon or trivia games; it successfully combines several elements to extend beyond typical Games for Girls. The perfect blend of adventure, mythology, and puzzles makes Heart-of-Iona an unmissable game that promises a thrilling ride for every player.
What are the best online games?