Healing Rush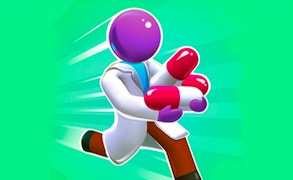 Healing Rush
Immerse yourself in the exhilarating world of Healing Rush, a captivating journey that beautifully blends elements of operation games, simulator games, and city building games. A potent remedy for boredom, this gem among management games will test your skills and stimulate your mind in equal measures.
In Healing Rush, you're thrust into the shoes of a doctor tasked with saving the townsfolk from strange diseases. Therein lies the core charm of this game: it's not just about constructing structures; it's about building hope. This is where the attributes of building games intermingle with those of strategy to create an experience that's as satisfying as it is challenging.
The game mechanics are simple yet addictive. The sense of urgency never dissipates as you scramble to find the right medicine, making it a perfect addition to the pantheon of exciting brain games. Each patient's ailment demands a unique treatment strategy, adding a layer of complexity that keeps you engaged. It's a compelling exercise in decision-making, where every choice can mean life or death.
Fancy yourself as the savior in scrubs? Then Healing Rush is just what the doctor ordered. This isn't just one among many run-of-the-mill skill games; this is an adrenaline-pumping ride that puts your managerial prowess and strategic thinking to the ultimate test. Feel the rush, feel the responsibility, and most importantly - feel the immense satisfaction that comes from saving virtual lives!
In conclusion, if you're on a lookout for an intriguing amalgamation of challenging puzzles and strategic play or have been searching for addictive city building games, then Healing Rush should be on top of your list. After all, there's nothing quite like being hailed as a hero in your own virtual hospital town!
What are the best online games?