Harvy Runner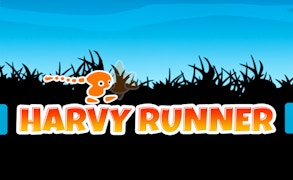 Harvy Runner
Description
In the adrenaline-fueled arcade game, Harvy Runner, you help the brave Little Harvy navigate an obstacle-laden environment. Your mission is to guide him safely through treacherous pathways while collecting stars. This high-paced adventure plunges you into a perilous world where you have to outsmart deadly monsters, defuse bombs, manipulate bridges, and dodge hazardous traps.
How to play
Your primary task in Harvy Runner is to ensure Harvy's safety as he sprints non-stop. To do this, you will need to remove obstacles, disable bombs and operate bridges using mouse clicks or your touch screen. Collect stars while avoiding hazards for bonus points. The game becomes more challenging as it progresses, requiring quicker reflexes and sharper strategy.
Tips and Tricks
To maximize your score in Harvy Runner, focus on collecting as many stars as possible without hitting hazards. Time your actions precisely to defuse bombs right before Harvy reaches them. Additionally, try to anticipate monster movements to outwit them and protect Harvy from danger.
Features
Rapid-paced gameplay that requires quick reflexes and decision making.
Variety of obstacles including monsters, bombs and complex paths.
Earning points through star collection adds a competitive edge.
Intricate levels with progressive difficulty creates endless entertainment.
What are the best online games?
Tags