Happy Farm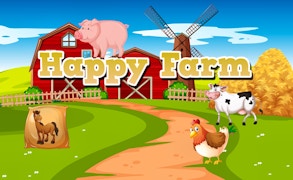 Happy Farm
Description
Welcome to Happy Farm, an engaging game designed to entertain and educate kids. You're the caretaker of a bustling farm filled with adorable creatures that rely on you for their meals. Each critter has its own preferred food. From chickens and cows to pigs and sheep, keep them well-fed and watch as your farm flourishes.
How to Play
The game is played via a simple tap or click mechanism. Tap on the animals to feed them their preferred food which appears at the bottom of the screen. The faster you feed, the more points you earn. The game keeps track of your score, allowing you to compete against your friends for high scores.
Tips and Tricks
A crucial strategy for success in Happy Farm is speed . The quicker you can identify an animal's food and feed it, the higher your score will be. Also, understanding the animals' feeding pattern can enhance your speed.
Features
Exciting gameplay: Intuitive clicker mechanism keeps players entertained.
Educational: Teaches kids about different animals and their diets.
Social: Compete against friends for high scores.
Vibrant graphics: Colorful visuals make for a fun aesthetic experience.
What are the best online games?