Happy Crayons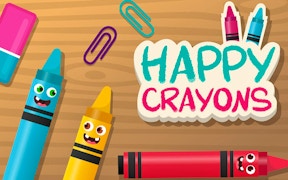 Happy Crayons
Prepare to dive into a world of color and imagination with Happy Crayons, the ultimate games for kids experience. This isn't just another typical coloring game, it's an exploration into the intricate and delightful realm of creativity itself. As a reviewer with a soft spot for art-inspired drawing games, Happy Crayons stole my heart right from the start.
An exciting feature that makes this game standout is the intuitive, easy to use interface. It's crafted with younger audiences in mind, making it perfect for tiny hands still learning coordination skills. The fear of coloring outside the lines? Toss it out the window! Happy Crayons cleverly ensures your kiddo's masterpiece remains neat and tidy, even as they unleash their wildest imagination.
This bountiful coloring book offers a plethora of templates to unlock creativity in young minds. Your child can paint everything from a slow-paced Snail, a graceful Butterfly, an armored Turtle, to an aquatic Fish! You'll also find playful Beach balls, huggable Teddy Bears, educational Alphabet blocks, and tasty Candy treats. And let's not forget about yummy Ice Cream cones, Donuts, and other tempting Sweets you can almost taste!
Mix and match from a rainbow catalog with different brush sizes and colors. And if your little artist makes a mistake? No problem! The user-friendly eraser removes unwanted colors neatly. Once your child has completed their lovely artwork, they can save it and print pictures - ideal for classrooms or for decorating your fridge at home.
In conclusion, Happy Crayons isn't just one of those run-of-the-mill coloring games. It's an interactive platform that fosters creativity while providing hours of fun for kids everywhere. So grab your virtual paintbrushes and let's dive headfirst into this colorful world!
What are the best online games?