Hanuka 2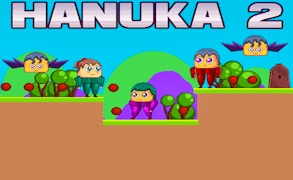 Hanuka 2
Description
Experience the exhilarating world of Hanuka 2, a dynamic 2D platformer. You will navigate through challenging environments as an agile girl on a quest to collect all the elusive red orbs. Your mission is full of high-stakes action, with threatening adversaries and lethal traps littering each level. As you advance, the complexity and difficulty rises, providing a constant test of skill and endurance in this intense adventure.
How to play
The WASD or Arrow keys control your character's movements. A double tap of the "W" or "Up" arrow key triggers a double jump, an essential skill for navigating the perilous landscapes. Your objective is to collect all the red orbs in each level before reaching the exit door that leads you to more challenging stages.
Tips and Tricks
Precision and timing are key when attempting jumps over spikes or rotating blades. Utilize your double jump wisely to overcome taller obstacles or wide gaps. Keep an eye out for flying enemies; they might sneak up on you.
Features
Action-packed 2D platformer: Fast-paced gameplay with consistent challenges.
Intricate Levels: Each stage presents a unique set of obstacles and enemies.
Progressive Difficulty: The game's complexity increases as you advance, keeping players engaged.
What are the best online games?