Hangman Game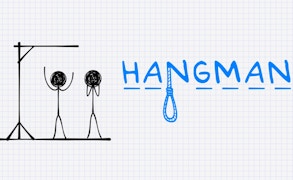 Hangman Game
There are games that when we think about them, remind us of the younger days when all we needed was a pencil and paper to have fun which is what the Hangman Game does. Enjoying the simple pleasures of the guessing game with just one clue to go on is what so many word puzzles are all about. The context is a bit morbid when you think about it, but we were just kids back then not really thinking about what was happening to the anonymous stickman. Still, we can save their lives with a few well-placed letters and deductive reasoning.
About Hangman Game
There's still so much fun that a person can have with a piece of paper and pencil and that's why certain games try to recreate that. This is not only a game based on a childhood classic, it's a traditional puzzle game that helped give rise to so many guessing and word games that are now more popular than they have ever been (theoretically). It's also a solid platform to play together with a few friends and can even fill the activity portion of a party when used correctly. That being said, it still feels good to get the word on your own.
How to Play
Hangman Game is a 2D puzzle game that's played entirely with the mouse. It's all about navigating and clicking to solve the puzzle ahead of you. The game screen is arranged so that the clue, the blank spaces, and the letters are all on the left side of the screen while the hangman is on the right side. You can click on the available letters to try and fill in the spots, but for each error, more of the hangman will be drawn in. If their full figure is drawn, it's game over.

As you guess the correct letters, they will fill in the blanks. When the word is completed, you'll be rewarded with diamonds and points before moving on to the next word. If the word looks more complex than expected, you can actually spend diamonds to fill in some of the spaces without risk.

Tips and Tricks
The clues are purposely kept vague and that means there are a lot of potential answers. The number of blank spaces is your biggest clue which can help eliminate options. If you're at a loss, start with vowels first.
Game Details
Developer: Alice Gomme (potential originator)
Platforms: Web Browser (PC and mobile), iOS, and Android.
Languages: Dependent on players
Gameplay Footage
FAQs
Who created the Hangman Game?
While sources are unclear, a strong theory is that the game first originated in a kids' book of games called Birds, Beasts, and Fishes which used points to track progress. The "Hangman" was supposedly introduced in a 1902 article in The Philadelphia Inquirer.

Games similar to Hangman Game
From the appearance and gameplay, you can sort this title into the Word and Stickman Games categories on GamePix. Other games in those areas include Text Twist, Wordscapes, Stickman Warriors, and Counter Stickman.
What are the best online games?