Hangman Challenge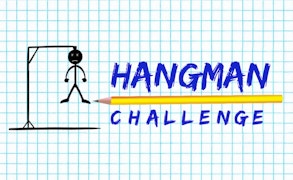 Hangman Challenge
Experience a whole new level of fun, excitement and educational challenge with Hangman Challenge, a standout among word games and trivia games. The game breathes fresh air into the genre, merging cleverly designed puzzles with a nostalgic throwback to classic stick figure drawings. It's not just a game, it's a brain-stimulating journey that has the power to keep everyone in your family entertained.
The clues at the top are your guiding stars, nudging you towards unraveling the concealed word which could spring from any world - animals, transport, or fruit! The immersive experience of picking letters from an array beckons you into its exciting yet familiar gameplay. Get it right and watch as the mystery unravels one letter at a time - get it wrong and witness the chilling emergence of a gallows.
In this stark blend of suspense and thrill that sets Hangman Challenge apart from other ordinary family games. Each wrong guess brings you closer to losing, as the noose tightens with every failed attempt – starting with the rope, onto the head and slowly revealing limbs one by one. A unique twist to traditional stickman games, it adds an adrenaline-fueled edge to every move you make.
Hangman Challenge, while highly entertaining, doubles up as an educational tool aimed at enriching your vocabulary. It's much more than just another game - it's an addictive brain teaser packed with loads of fun. This intriguing mix of word puzzle and trivia elements keeps you on your toes while making learning an enjoyable process. Whether you're looking for a fun way to pass time or hunting down challenges that test your intellect, Hangman Challenge is sure to be your go-to game.
What are the best online games?