Hana Bot 2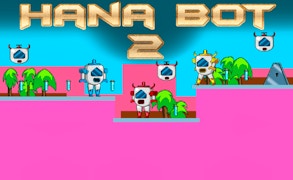 Hana Bot 2
Description
Embark on an exciting adventure in Hana Bot 2, a captivating 2D Sci-fi action-adventure game. As a swift and agile bot, your mission is to gather test tubes across hazardous environments. With eight challenging levels, you will confront hostile bots, dodge bullets, and evade deadly obstacles such as flying bots, colossal blades, and dangerous spikes. The game's complexity escalates with each level, making it a thrilling experience for gamers.
How to Play
To control the bot, use the "WASD" or "Arrow" keys. Pressing the "W" or "Up" arrow key twice enables the bot's double-jump ability – an essential skill for navigating treacherous terrain or avoiding attacks. Reach the exit door in each level to advance further into the game.
Tips and Tricks
Mastery of the double-jump ability is crucial in Hana Bot 2. Utilize it to evade enemies and their bullets, or to reach higher platforms that might be out of reach otherwise. Always stay alert for potential threats like flying bots, blades, and spikes.
Features
Intriguing Sci-fi theme that immerses players into an adventurous quest.
A total of eight challenging levels with escalating difficulty.
Diverse set of enemies and obstacles add layers of complexity to the gameplay.
User-friendly controls providing an engaging gaming experience for all skill levels.
What are the best online games?