Hana Bot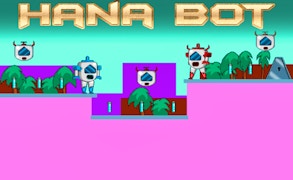 Hana Bot
Description
In the game Hana Bot, step into the metallic shoes of a sci-fi robot navigating through an obstacle-ridden laboratory setup. Your task is to gather all test tubes scattered across the 2D levels swarming with enemy bots, flying adversaries, giant blades, and lethal spikes. The game unfolds across 8 challenging levels with escalating difficulty to keep you on your toes.
How to Play
The gameplay controls of Hana Bot rely on either "WASD" or "Arrow" keys. Navigate the bot around using these controls, and reach the exit door to progress to subsequent levels. For accomplishing double jumps, tap either 'W' or the 'Up' arrow key twice in quick succession.
Tips and Tricks
Precision is of utmost importance in Hana Bot. Be cautious while near spikes and giant blades - a single touch can be lethal. Remember, double jumps can help overcome higher obstacles or get out of tight spots quickly. Use them wisely!
Features
Action-packed platformer: With its exciting array of adversities, Hana Bot provides non-stop robotic action.
Intricate level design: Each level is meticulously designed with varying difficulty for an engaging gameplay experience.
User-friendly controls: With simple keyboard controls, navigate through the game easily, making it accessible for all types of players.
Diverse set of challenges: Enemy bots, flying enemies, giant blades, and spikes ensure each level presents a unique challenge.
What are the best online games?