Halloween Special Party Cake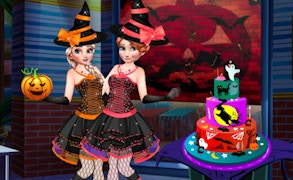 Halloween Special Party Cake
Hi budding chefs and style enthusiasts! Are you ready for some Halloween fun? Well, let me introduce you to the delightful world of Halloween Special Party Cake, one of the most interactive Games for Girls. This game takes you on an enchanting journey where fashion meets food in an exciting twist of events.
This captivating Princess Game isn't just about dressing up your favorite characters for a Halloween bash, it's so much more. Imagine not only choosing their costumes but also decorating a mouth-watering cake for the party. Sounds thrilling, right?
Starting from selecting the perfect Halloween-themed outfit, to picking out quirky accessories and finishing with a cherry on top by creating your custom-made sweet masterpiece, this game perfects the art of seasonal festivities. It's essentially a fusion of delightful dress up and imaginative cooking games. And guess what? The fun doesn't stop here!
The graphics are child-friendly and vibrant which adds to the overall engaging experience. The user interface is simple to navigate making it a total win-win for our younger friends. What makes this game truly shine is the creative freedom it offers - every choice you make is solely yours and each party preparation step feels real and satisfying.
I invite all our little fashionistas and aspirant pastry chefs to dive into the enchanting universe of Halloween Special Party Cake. Get ready to have some serious Halloween fun, girls!
What are the best online games?