Halloween Princess Makeover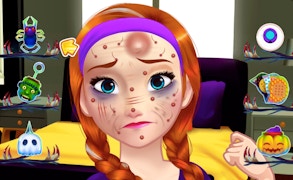 Halloween Princess Makeover
Get ready for a spooktacular gaming experience with Halloween Princess Makeover, an enthralling addition to the lineup of Princess Games. This game isn't just another run-of-the-mill makeup game. This is a game that combines the charm of dress-up games, the creativity of makeup games, and the thrill of Halloween, all wrapped up into one delightful package designed specifically for girls.
The protagonist, Princess Anna, is a huge Halloween fan. However, she's in a bit of a pickle this year as her face isn't in the best condition. It's your job to give Princess Anna a thrilling Halloween makeover she deserves!
This game is much more than your average dress up games for girls. It offers players an immersive experience that encourages creativity and imagination. The interface is intuitive and user-friendly, making it easy for even the youngest gamers to get involved. Each tool and accessory in the game is designed with incredible attention to detail, adding authenticity that's sure to impress.
What sets Halloween Princess Makeover apart from other similar princess games, is its delightful blend of fun and fright. From cobwebs and pumpkins to witches hats and spooky makeup options, there's no shortage of Halloween elements to transform Princess Anna into a Halloween sensation.
All in all, whether you're looking for new makeup games, captivating dress up games, or simply searching for something different in the world of princess games, trying out Halloween Princess Makeover would be a spellbinding move. Engage in this exciting adventure as you help Princess Anna become the belle of the All Hallow's Eve ball!
A massive treat for fans of games for girls, Halloween Princess Makeover brings unique elements together to create a gaming experience like no other. Give it a try - we guarantee you'll have an absolutely spooktacular time!
What are the best online games?