Halloween Pregnant Check Up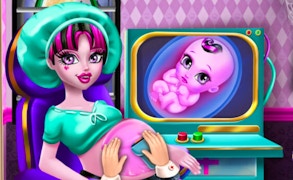 Halloween Pregnant Check Up
Welcoming the spooky season with a twist, Halloween Pregnant Check Up brings a delightful potpourri of games for girls, monster games, operation games, and baby games all rolled into one. This innovative fusion of genres offers an inviting, immersive experience that is as daring as it is enchanting.
The game takes you on an enchanting journey to the medical world. You don't just play this game; you become the doctor responsible for ensuring the smooth sailing of a pregnant monster princess's trimesters. From her heartbeats to her ultrasound, every medical aspect is covered in this captivating narrative.
Intriguingly enough, Halloween Pregnant Check Up doesn't stop at introducing medical tools; it brings to life the sheer joy and wonder that accompany imminent motherhood. Hearing the baby's heartbeat, seeing its form on the ultrasound machine - these are moments sure to tug at your heartstrings.
Revelling in this shared joy, you can play music for the baby through headphones - a delightful touch that beautifully mirrors real-life practices. And yes, just when you thought this couldn't get more fun, there's even an option to choose a cheerful belly tattoo for our monster princess!
Halloween Pregnant Check Up is not just a game but a magical experience wrapped in festive vibes and medical exploration. It's where Halloween meets maternity in the most unlikely environments, successfully incorporating elements of monster games into thoughtful narratives about pregnancy. This transmutes what could have been 'just another game' into something remarkably special.
All said and done; this game is genuinely one-of-a-kind; combining elements from different aspects- from fun baby games to intriguing operation games-this playful venture leaves no stone unturned in winning hearts and crafting memorable gaming experiences."
What are the best online games?