Halloween Circle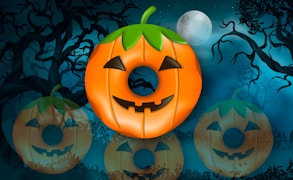 Halloween Circle
Description
The Halloween Circle online game is an exciting, spine-chilling adventure sure to get your adrenaline pumping. With a simple design and captivating gameplay, it places you in the role of a frolicking circle navigating along a perilous line. Your objective? To jump at just the right moment, land safely on the line, keep moving, and ultimately, to conquer the highest record conceivable.
How to play
In this easy-to-play yet addictive arcade game, you'll steer a circle along a winding line. Use the spacebar key or mouse click to jump when required. The challenge lies in correctly timing your leaps to avoid missing the line and ending your journey prematurely. Stay focused as you compete for the highest score.
Tips and Tricks
The key to mastering Halloween Circle is enhancing your timing skills. The unpredictable line twists can throw you off balance - but don't let that deter you. Practice consistently, sharpen your precision, and take calculated leaps instead of hasty jumps. Remember, patience is every high-score holder's secret weapon.
Features
Simple Controls: Easy-to-learn gameplay with minimal controls for easy adaptation.
Addictive Adventure: A riveting adventure that keeps players hooked with its unpredictable twists and turns.
Creative Theme: A unique Halloween-themed design makes it perfect for holiday gaming fun.
High-Score Challenge: Encourages friendly competition as players strive to break records and attain top scores.
What are the best online games?