GunSpin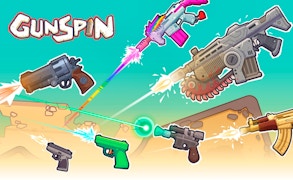 GunSpin
If you're an action thrill-seeker with a flair for strategic thinking and are looking for a new challenge in the realm of gun games and skill games, allow me to introduce you to GunSpin. This adrenaline-pumping, bullet-ridden, distance-driven game will test your ability to strategize and outsmart even the most daring of opponents.
GunSpin does not simply rely on your shooting prowess; it incorporates a unique twist that adds depth to its gameplay. The recoil momentum from each shot you make propels you further across vast terrains, turning the battlefield into one massive, heart-thumping catapult. This mix of strategic thinking and fast-paced action sets GunSpin apart from the typical trigger-happy gun games.
The shooting mechanic is simple yet profound: select the right direction and start firing with your chosen firearms. Easier said than done, as it requires masterfully balancing your firepower with travel distance. You'll quickly learn that every shot counts - plan wisely before running out of ammo!
As an additional layer of excitement, GunSpin offers a comprehensive upgrade system. Spend hard-earned coins on various power-ups to amplify your weapons and their stats. With 18 mighty firearms available, the game provides ample opportunities for experimentation and customization.
A journey through GunSpin's nine unique stages feels like an action movie brought to life. Each stage throws different challenges at you that will put your courage - and skills - to the ultimate test.
In conclusion, GunSpin is more than just another addition to the realm of gun games or skill games. It's an exhilarating escapade that thrills with its strategic shooting mechanics, diverse upgrade system, varied stages, and powerful arsenal. Perfect for those seeking a game that challenges as much as it entertains.
What are the best online games?
TAGS