Greenlight, Redlight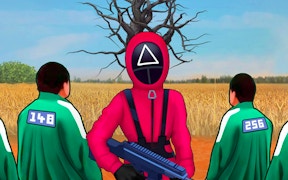 Greenlight, Redlight
Step into the riveting world of Greenlight, Redlight, a fresh and exhilarating contender in the realm of multiplayer battle games. This adrenaline-pumping game artfully meshes elements of battle royale and survival games, carving a unique niche in the competitive gaming sphere.
Based on the viral sensation that is Squid Games, Greenlight, Redlight mercilessly throws players into a high-stakes, all-or-nothing environment where only the ruthless survive. Styled as a Squid Game Challenge, this multiplayer survival game demands more than just skill and quick reflexes; it's a true test of your mental fortitude and survival instinct.
A deadly cocktail of tension, strategy, and white-knuckle moments make this one of the most engaging battle royale games on the scene. From heart-stopping hide-and-seek games to nerve-wracking block-jumping sequences, every minute in Greenlight, Redlight keeps you on your toes and your heart pounding. Victory doesn't come easy; it hinges on your ability to outwit, outmaneuver, and outlast your opponents.
The real beauty of Greenlight, Redlight lies in its blend of psychological warfare and pure skill-based battles. It's not just another addition to the crowded group of skill games; it's a beast in its own right. With a lucrative cash prize awaiting at the end and an intense battle for recognition within each game session, this is not just about survival — it's about glory.
Tailored for gamers driven by competition and instinctive tactical prowess, Greenlight Redlight is more than just a game - it's an adrenaline-fueled journey that combines elements from some of the best battle games, making it an absolute must-try for every gamer who relishes high stakes challenge.
What are the best online games?