Green and Blue Cuteman 2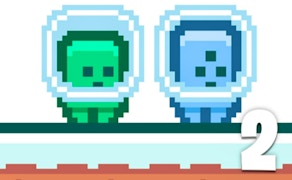 Green and Blue Cuteman 2
Welcome to another exciting adventure in the realm of pixel games with the new and captivating title, Green and Blue Cuteman 2. This game masterfully combines elements of monster games, 2 player games, and escape games, expertly testing your strategic planning and survival skills.
The premise is simple yet intriguing. You are introduced to two adorable alien protagonists named Green and Blue. They are on a mission to navigate their way through a vast expanse filled with intricate challenges, harrowing obstacles, malicious monsters, and thrilling escape rooms. Their goal? To reach the last level safe and sound. But remember, every corner is swarming with obstacles hell-bent on stopping them in their tracks.
The gameplay is a beautiful blend of strategy, teamwork and skill. As one of the best skill games out there, no two levels will ever feel the same in this thrill ride. The seamless control system allows you to switch between characters effortlessly, promoting teamwork and collaboration like never before.
You'll find yourself lost in the pixelated beauty of Green and Blue Cuteman 2's world that brings you back to the golden age of gaming. But don't let its charm fool you! This seemingly innocent world hides countless dangers that will test your wit at every turn.
In summary, Green & Blue Cuteman 2 is an addictive mash-up of classic gaming elements designed to challenge even the most seasoned gamers. It flawlessly blends pixel aesthetic, monster menace, cooperative gameplay mechanics, puzzles from classic escape games & requires sharp skills for success. For those yearning for a nostalgic adventure filled with fun, peril & skill-testing trials - look no further than Green & Blue Cuteman 2!
What are the best online games?