Gozu Adventures 2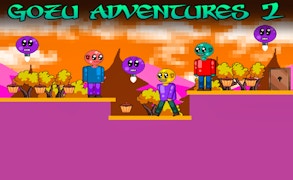 Gozu Adventures 2
Description
Dive into the mechanical world of Gozu Adventures 2, a thrilling and fun-filled 2D platformer. Take control of a playful robot Gozu, tasked with ridding each level of delicious cupcakes, all while navigating through treacherous obstacles. Every level poses varying challenges such as flying adversaries, sharp spikes, rotating saws and more. Brace yourself for an action-packed journey across 8 levels of increasing difficulty in this exhilarating sequel of the original Gozu Adventures.
How to play
The WASD or Arrow keys are your primary tools for controlling Gozu's movements; you can navigate through each level using these controls. Use the "W" or "Up" arrow key twice to perform a double jump, which is vital to overcome higher obstacles or dodge attacks from enemies. The goal is to reach the exit door, paving your way to the next level.
Tips and Tricks
Become a master at timing your jumps to evade hazardous obstacles and enemy attacks. Remember- the double jump is particularly handy when dealing with tall barriers or multiple flying enemies. Keep a vigilant eye on rotating saws which can surprise you from unexpected corners.
Features
Innovative 2D platform game mechanics.
A total of 8 engaging levels with increasing difficulty.
A variety of challenging adversaries and obstacles.
Skill-based gameplay with double jumping mechanism.
An exciting sequel to the fan-favorite original Gozu Adventures.
What are the best online games?