Gone Fishing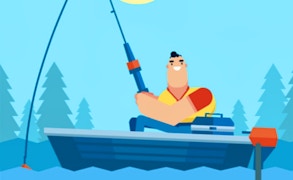 Gone Fishing
Dive headfirst into the immersive waters of Gone Fishing, a cutting-edge entrant in the universe of action fishing games. As enchanting as it is thrilling, this game manages to dramatically interweave the calm tranquility of fishing with an adrenaline-pumping action spin that will leave you on the edge of your seat.
The premise is delightfully simple and akin to traditional fishing games - cast your line and hook a big one. However, Gone Fishing introduces a tantalizing twist. Amidst the serene waves and picturesque environments lies an unexpected fusion with the high-octane genre of gun games. It's a remarkable blend that'll reel you in before you know it.
Gone Fishing presents lush graphics that flawlessly capture the captivating allure of nature and juxtaposes it against the high-intensity drama that ensues when fish aren't the only things surfacing from those depths. It offers a unique gaming environment, blending serenity and explosive excitement seamlessly.
Level design in Gone Fishing strikes a perfect balance between challenge and enjoyment. Each stage increases not only in difficulty but also in ingenuity, testing your reactions and strategy. Moreover, there's an impressive array of customization options for your fishing gear and gun arsenal, allowing players to truly make this unique experience their own.
In conclusion, Gone Fishing beautifully marries two seemingly distant genres – action-packed gun games and leisurely fishing ones – creating an exhilarating experience that'll leave gaming connoisseurs hooked. With its unpredictable elements, tactical complexity, and stunning visuals, Gone Fishing has set a new standard for all future action fishing games. Cast your reel; an unforgettable gaming adventure awaits.
What are the best online games?
TAGS