Gold Mine Game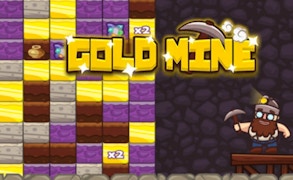 Gold Mine Game
Unearth the hidden fortune in the earth's crust and embark on a thrilling adventure with the Gold Mine Game, one of the very best in its genre. This captivating action-packed expedition is a true standout among clicker games. It uniquely combines the engaging elements of both mining games and Skill Games.
In Gold Mine Game, your fingers will be gripped with excitement as you race against time to hoard golden nuggets, sparkling gems and valuable stones. The more you mine, the more you progress - simple as that. Every single click sends a torrent of adrenaline rushing through your veins, turning this game into an addictive powerhouse.
The game offers a fascinating journey below ground where your prowess and quick reflexes play crucial roles in achieving your daily target. As you probe deeper into the mining abyss, you will stumble upon precious treasures cached away in secret chambers over millennia.
An essential staple of skill games, Gold Mine Game tests your hand-eye coordination abilities to the max. The graphics are impressive, capturing every glint of gold and sheen of stone realistically. Not only does it make for an immersive gaming experience, but it also adds an extra layer of challenge guaranteeing non-stop fun.
In conclusion, Gold Mine Game casts its magic on everyone who dares to dive deep into its mysterious mining pits. True to its genre as a prime example of action-packed clicker games, it lures players into an enthralling world full of glittering rewards. Between the subterranean escapade, tactical gameplay and high-end graphics, you'll have everything needed for a stirring gaming session - one click at a time.
What are the best online games?