Gobo Desert of Cubes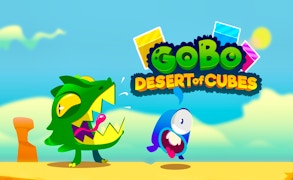 Gobo Desert of Cubes
Description
In Gobo Desert of Cubes, you'll navigate a labyrinthine desert filled with puzzling obstacles. This 2D side-scrolling platform game puts you in the shoes of Gobo, a brave adventurer trying to escape. The unique challenges lie in leveraging the monsters inhabiting the desert, which have the power to manipulate cubes that either aid or block your path to freedom.
How to play
Use your keyboard's arrow keys for movement and jumps. Watch carefully for monsters, as they can activate or deactivate cubes in your path. The key to progressing in this game is figuring out how to use these monsters and cubes to overcome obstacles and reach the exit door. Remember, each level is a puzzle waiting to be solved!
Tips and Tricks
Mastering timing is crucial in Gobo Desert of Cubes. Learn when to provoke the monsters so that they activate or deactivate cubes at just the right time. Be observant—sometimes not all cubes are as helpful as they appear. Always be strategizing on how best to use the cubes and monsters.
Features
Ingenious level design: Every level presents new puzzles using different cube configurations.
Clever monster mechanics: The ability of monsters to influence cube behavior adds a unique twist.
Puzzle-solving gameplay: This isn't just about platform jumping; success requires careful thought and strategy.
Retro arcade-style graphics: The 2D visuals hark back to classic arcade games for a nostalgic experience.
What are the best online games?