Goals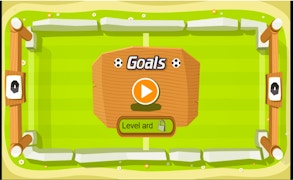 Goals
Description
In Goals, an enthralling game of football, you are pitted against the CPU across two different levels of difficulty. The game offers a thrilling blend of arcade-style play and the precision required in ball games. Contest the ball with your AI opponent and showcase your skills to net as many points as possible. Are you ready to hit the pitch and rack up some Goals?
How to Play
Controlling Goals is straightforward and intuitive: guide your alter ego on the screen using your keyboard or touchscreen, depending on your device. The aim is simple - to score more goals than your opponent in each level. Strategic movement and well-timed shots are crucial to beat the CPU player, while progress is gained by winning each game and moving onto higher difficulty levels.
Tips and Tricks
To succeed in Goals, be sure to analyze your opponent's movement patterns. A swift counter-attack can often catch them off-guard leading to easy goals. Also, mastering controls will enhance shot precision and consistency in scoring goals, which is key for victory.
Features
Captivating Football Gameplay: Engage in an immersive football experience pitting you against a competitive CPU player.
Two Difficulty Levels: Challenge yourself at varying difficulty levels meant for beginners and seasoned players alike.
Straightforward Controls: Easy-to-use controls that allow for smooth navigation on the field.
Arcade Style: Enjoy a uniquely blended arcade-style atmosphere with traditional football gameplay.
What are the best online games?
Tags