Go Baby Shark Go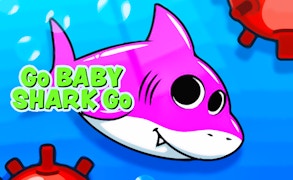 Go Baby Shark Go
Description
Immerse yourself in a deep-sea adventure with Go Baby Shark Go! Channeling your inner aquatic creature, you navigate a tiny shark through the vast ocean filled with dining opportunities and daunting challenges. Modeled after the popular Flappy Bird, this game requires finesse and quick reactions to guide your shark to food while steering clear of dangerous mines. Keep your shark swimming for as long as possible in this delightful survival game.
How to Play
In Go Baby Shark Go, controlling the baby shark is easy: simply tap your screen to make it swim upwards. The trick lies in maintaining a rhythm that keeps your shark dodging mines and munching on starfishes and fish alike. However, remember that if you hit an obstacle or miss tapping, the game ends. Persistence and precision are key.
Tips and Tricks
Mastery of timing is paramount for thriving in Go Baby Shark Go. Keep a steady rhythm but be ready to adjust as obstacles appear at different heights. Remember, all food items give points so grab as much as possible whilst avoiding mine encounters, which bring an abrupt end to the game.
Features
A fun and addictive challenge akin to Flappy Bird but with an aquatic twist.
Simple controls making it easy for players of all ages to enjoy.
Earning points by eating sea creatures sprinkled throughout the course.
Dodging deadly mines that test your reflexes and timing skills.
What are the best online games?