Gloo Bot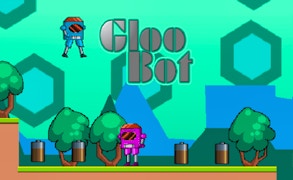 Gloo Bot
Description
In Gloo Bot, a challenging 2D Sci-fi platformer, your mission is to guide a versatile robot through complex environments infested with adversary machines. The game spans eight levels, each escalating the intensity and complexity as you advance. Your primary objective is to acquire all the battery cells and return to your Robot House while skirting deadly traps, including spikes and hostile robots.
How to play
Control your bot using either the "WASD" keys or the "Arrow" keys. For movement, press the "W" or "Up" arrow key twice for a double jump. It's crucial to collect all battery cells while avoiding harmful obstacles and unfriendly bots on your journey back to your Robot House.
Tips and Tricks
To succeed, anticipate enemy movements and learn their patterns. Use the element of surprise with your double jump ability to dodge enemies effectively. Remember that battery collection is not just about reaching the end, but also about how strategic you are in avoiding threats.
Features
Eight challenging levels with escalating difficulty.
Retro sci-fi theme: Enjoy a digital twist on classic platform gameplay infused with thrilling Sci-fi elements.
Diverse threats: Face a variety of robotic adversaries while navigating through dangerous traps.
Energetic gameplay: Keep engaged with dynamic controls like double-jump for more strategic navigation.
What are the best online games?