Glittery Genies Realife Sauna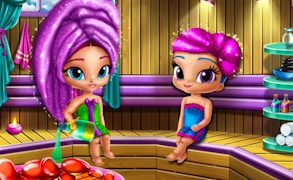 Glittery Genies Realife Sauna
Prepare to dive headfirst into a whimsical world of relaxation, magic, and glamour with Glittery Genies Realife Sauna, one of the most enchanting games for girls on the market. Seamlessly merging the best components of makeup games, dress up games, and hairdresser games, this vividly illustrated game will transport young gamers into a universe of shimmering style and infinite wishes.
The game opens with the introduction of two captivating genies ready for a calming spa experience within the steamy ambiance of a sauna. Initially tasked with preparing these mystical beauties for their soothing session, players will avidly transform from young gamers to proficient stylists, carefully selecting suitable attire and assisting the genies in taking immersive showers.
Moving forward in this magical journey, gamers get to play an active role in designing the ultimate sauna experience. Choosing from varied options of tantalizing essential oils and warm stones to use in the sauna furthers heightens the immersive experience making it wonderfully interactive.
A key highlight of Glittery Genies Realife Sauna is undoubtedly its infusion of classic dress-up elements. Post-spa, players have the joyous task of playing dress up with their glittery genie companions. Here's where your fashion sense comes into play as you choose from a plethora of cute outfits. Witness your genie transform into a fashion icon under your guidance!
In conclusion, whether you're enchanted by makeup games or pumped about dress-up games, Glittery Genies Realife Sauna offers an all-encompassing expedition to charm one and all. So why wait girls? Dive in - perhaps your genie will grant you a wish!
What are the best online games?