Geometry Neon Dash Rainbow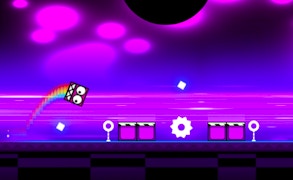 Geometry Neon Dash Rainbow
Welcome to this scintillating review of the Geometry Neon Dash Rainbow, a wild ride in the realm of arcade gaming that challenges your reflexes and promises endless hours of entertainment. This captivating game successfully fuses elements from various genres including skill games, survival games, and even borrows some addicting traits of tap games and clicker games.
In the flood of so-called 'cool games', Geometry Neon Dash Rainbow is a standout, a perfect melange of intense gameplay and intriguing mechanics. The game demands a mix of precision, timing, and strategy, putting your skills to an ultimate test as you navigate through its neon-lit corridors filled with lethal obstacles. Jump high or dart low, each tap or click decision can mean the difference between neon glory and pixel oblivion.
Famed for its merciless difficulty, every level is an intricate labyrinth littered with deadly traps and unforgiving pathways. As one of the premier survival games out there, it forces players to adapt on-the-fly, strategize quickly, and most importantly - survive bewitchingly captivating environments that hold both danger and beauty.
The neon aesthetics bring this geometric landscape to life with vibrant hues forming stunning rainbows across the screen. The relentless beat playing in the background goes hand-in-hand with your protagonist's frantic movements, providing an immersive experience that is as challenging as it is mesmerizing.
Geometry Neon Dash Rainbow is not just another game you eliminate off your device after a couple rounds; it's an addictive thrill-ride that keeps players coming back for more due its relentless pulsing energy. If you're seeking cool games that stimulate your senses while testing your reactions amid dazzling visuals, then this enthralling arcade gem deserves a spot at the top of your gaming list!
So come on all you skill gamers out there! Dive into this vibrant universe where survival means everything. Play Geometry Neon Dash Rainbow today – it's absolutely free and waiting to tantalize you with its beckoning neon allure.
What are the best online games?