Geo Dash 2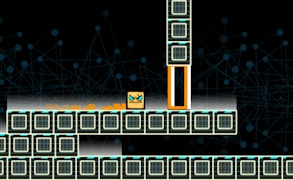 Geo Dash 2
Get ready to ride the adrenaline rollercoaster in the world of retro-style arcade gaming with Geo Dash 2! This sequel packs in more excitement, thrill and fun than ever before. Mastering this running game requires a blend of quick reflexes and rock-solid concentration - think of it as a mesmerizing dance on hot lava.
Dubbed as one of the most addictive skill games, Geo Dash 2 catapults you into a world of geometric landscapes full of obstacles. The game is simple in its essence - run, jump, and survive, but its addictiveness lies in its challenging complexity. It's the electrifying blend of a survival game, yet with elements that make it stand proudly among the best clicker games.
This game rewards you for your persistence and incremental improvements with new characters and fresh levels. Each level is a new journey into uniquely designed universes that will leave you both astonished and intrigued.
No buttons to push, just pure tapping makes it one of the top-notch tap games. However, don't mistake simplicity for ease. Survival depends on your split-second decision-making ability.
The enthralling background score, coupled with vibrant colors and clean graphics provides an immersive experience that will have your senses tingling. Whether you're an arcade connoisseur or just looking for an exciting pastime, Geo Dash 2 delivers an unforgettable gaming experience.
In conclusion, if you are looking for a finger-tapping challenge that tests your survival instincts to their limit, then Geo Dash 2 would be my clear recommendation amongst running games or survival games.
What are the best online games?