Geek Fashion Girl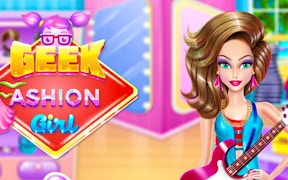 Geek Fashion Girl
Welcome to the delightful world of Geek Fashion Girl, a unique blend of fashion games, dress up games, hairdresser games, and makeup games diligently crafted for the little princesses in your life. This game is an absolute gem in the ocean of games for girls.
The story-line centers around a geek doll requiring your assistance to revamp her beauty. An emergency has unfolded, and it's up to you, as an expert beautician and dress designer, to come through. The unique concept engages young minds, encouraging them to think creatively while having fun.
The game starts with you choosing treatments suitable for her skin. It's a miniature introduction into the world of skincare for our young players. After this makeover session, it's time to work on her makeup. This feature allows the players to experiment with different looks and learn about various cosmetic tools. From eyeshadows to lipsticks–it's like a virtual canvas for your kid's imagination.
Now comes the most exciting part–the dress-up! With countless chic options available, this section truly stands out as one of the best dress-up games on offer today. This aspect is also educational as it teaches color coordination and sense of style.
In essence, Geek Fashion Girl manages to fuse fun with education impeccably well. With its stunning visuals and intuitive gameplay, this game provides both entertainment and learning in a safe digital environment conducive for girls who love fashion.
If you're on the hunt for engaging fashion games, thrilling dress-up games, creative hairdresser games, or interactive makeup games,, Geek Fashion Girl will undoubtedly win you over. Give it a try today!
What are the best online games?