Garden Princess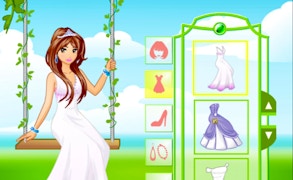 Garden Princess
For all the little stylists, fashion aficionados, and princess fans - hold on to your tiaras, because the Garden Princess game is here to captivate your heart! Perfectly blending tags like Games for Girls, dress up games, fashion games, and Princess Games, this enchanting ensemble masterpiece offers a unique experience that will have you coming back for more.
Engage in an enthralling fashion adventure as you create a new look for the eponymous Garden Princess. With the regal lady awaiting your fashion expertise while quietly sitting on her swing, this game sparkles with dreamy aesthetics that transport you to a captivating fairy tale.
Garden Princess taps into the childhood delight of playing dress-up. With an expansive variety of whimsical outfits on offer, it truly is a pinnacle of dress up games. Whether you opt for romantic florals that echo the garden setting or glitzy royalty-worthy gowns, every choice is another stroke on your creative canvas. Aspiring designers will love how this game encourages individual tastes, making it a shining star among fashion games.
Amidst all these dazzling sartorial choices, don't forget - at its core - Garden Princess is one of those perfect Princess Games. It greets you with an absolutely charming princess character whose elegance resonates with every girl's princess dreams.
In conclusion, Garden Princess merges the worlds of high fashion and royal grandeur exquisitely. It offers an engaging platform where girls can exercise their creativity and enjoy fashion at its fanciful best. A must-play in the realm of Games for Girls, it guarantees hours of delightful playtime filled with style and sparkle.
What are the best online games?