Gangster Hero Grand Simulator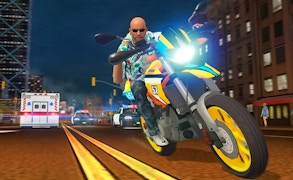 Gangster Hero Grand Simulator
Step into the fiery world of car games, driving games and gun games with the daring spectacle that is Gangster Hero Grand Simulator. This game fuses the adrenaline rush of battle games with the gritty realism of simulator games to create a world of suspense and excitement tailor-made for any action junkie.
The riveting streets of Gangster Hero Grand Simulator might bring memories of Miami or Las Vegas, but make no mistake, it's New York - a playground for gangsters and city that never sleeps. As a thug who leaves the entire city trembling in fear, you rule your turf with an iron fist and a roaring engine. Car games have never been so intense, and in this tempestuous mix of driving games and gun play, you're at the wheel.
Drive exotic cars and motorbikes around the city while unleashing chaos on your rivals. It's not just about speed; it's about strategy too. Your mission: to become the ultimate super thug in a world where lawlessness rules. The streets are fraught with danger and challenge at every turn, making it an epic playground for fans of gangster games.
Embrace your inner villain with 'Gangster Hero Grand Simulator. Whether you're a fanatical car game enthusiast or an ardent supporter of gangster crime simulator games, this offering is right up your alley. Its immersive gameplay combines elements from multiple gaming genres delivering an action-packed experience unlike any other.
If you've got what it takes to rule the underworld, then buckle up and hit the gas because Gangster Hero Grand Simulator offers explosive battles, high-speed car chases, thrilling heists, and so much more - all wrapped in one grand game that leaves you wanting for more.
What are the best online games?