Gakkul 2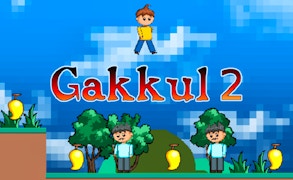 Gakkul 2
Description
In Gakkul 2, you step into the shoes of a young boy on a challenging 2D platformer adventure. Navigate meticulously designed levels, dodging obstacles and adversaries to collect coveted mangoes from guarded gardens. With each level, the stakes rise, testing your skills and agility. This sequel to the beloved "Gakkul" series hones in on its core gameplay mechanics while enhancing the difficulty and thrill.
How to Play
Control your character with ease using "WASD" or "Arrow" keys for movement. Leverage your agility with a special double jump feature by hitting "W" or the "Up" arrow twice, bypassing tricky obstacles and reaching higher places. Reach the yellow flag to progress through 8 increasingly complex levels.
Tips and Tricks
To excel at Gakkul 2, maintain a keen eye for incoming hazards such as green birds and traps like spikes. Perfect your timing with double jumps to evade perilous situations. Remember, strategy is key when navigating through garden owners' watchful eyes.
Features
Epic sequel in the exciting Gakkul series.
Dynamic and engaging 2D platformer gameplay.
A growing challenge across 8 meticulously designed levels.
A unique double jump feature for advanced platforming tactics.
Anime-inspired artwork and style resonating with fans of the genre.
What are the best online games?