Fuuta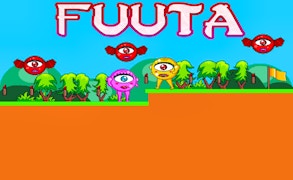 Fuuta
Description
Embark on an adrenaline-filled journey with Fuuta, a classic 2D platformer game. The mission is not simple as it sounds to be, you must gather all the lipsticks while skilfully avoiding dangerous enemies that includes single-eyed and flying monsters, as well as sharp pins. With each level, the challenge gets tougher. The game comprises of eight gripping levels that impeccably escalates in difficulty.
How to play
To control your character in Fuuta, you can use either "WASD" keys or "Arrow" keys. To make your character jump once or double jump, press the "W" key or "Up" arrow key once or twice respectively. The ultimate goal? Reach the yellow flag for transitioning to the succeeding level!
Tips and Tricks
Time your jumps perfectly to dodge enemies and pins easily. Don't rush! Take your time to understand patterns of flying monsters and move accordingly. Make good use of the double jump, it can help you reach lipsticks placed at higher places and avoid dangers as well.
Features
Eight Challenging Levels: Each level offers unique challenges that ramps up with each progress.
Diverse Enemies: Face off against quirky single-eyed and flying monsters, along with sharp pins.
Movement controls: Flexibility to choose between "WASD" keys and "Arrow" keys for movement.
Nostalgic 2D platformer : A classic genre is given a fresh twist adding more layers of excitement.
What are the best online games?