Furious Ride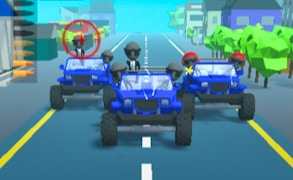 Furious Ride
Are you an adrenaline junkie with a love for action games? Well buckle up, I've got something that will rev your engines. Welcome to the world of Furious Ride, a thrilling blend of car games and gun games, where the fast-paced action never ceases.
In Furious Ride, you're not just facing off against the clock - you're in a high-speed race against relentless enemies, making it one of the most exhilarating driving games out there. Imagine if Mad Max and Need for Speed had a digital baby - that's Furious Ride. It's a rearview mirror filled with danger, and only those with nerves of steel and lightning-fast reflexes will survive.
Get ready to experience one of the most exciting sniper games, but from behind a racing wheel instead of nestled in some remote hideout. You'll need both precision targeting and deft maneuvering as you weave through traffic, shaking off enemy fire while returning some of your own.
The good news? You're not left completely to the wolves (or rather, rival drivers). Diamonds scattered along your path serve as a much-needed lifeline, allowing you to upgrade your character to stand a fighting chance against your pursuers. These gems aren't easy pickings though - they require skillful navigation at breakneck speeds, adding yet another layer of excitement to this thrilling game.
In sum, Furious Ride offers an action-packed thrill ride that successfully merges elements from various gaming genres into one helluva heart-pounding experience. It's not just a game; it's an all-out war on wheels where cunning strategy meets raw horsepower. Whether you're a fan of car games, gun games, or sniper games, Furious Ride ensures an unforgettable gaming adrenaline rush that will have you coming back for more!
What are the best online games?