Funny Zoo Emergency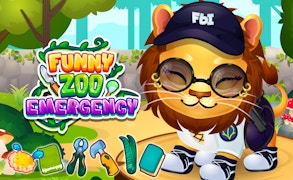 Funny Zoo Emergency
Description
In Funny Zoo Emergency, step into the shoes of a dedicated zoo vet! Your job? To nurse the adorable baby animals back to health. You'll be treating a variety of illnesses, cleaning them up and even dressing them in cute outfits. A range of realistic veterinary tasks combined with a vast dress up section makes this a fun and engaging game for animal-loving kids and players who enjoy operation and hairdresser games.
How to Play
The game is simple to play with easy-to-follow prompts that guide you through each task. Click or tap on tools or items when highlighted, drag and drop them to the indicated spot, and perform tasks like operating or dressing up animals by following on-screen instructions. The game progresses as you successfully complete each task, unlocking more animals in need.
Tips and Tricks
Pay close attention to the tutorial at the beginning of the game! It gives you vital hints on gameplay mechanics. Also, try different combinations in the dress-up section, as finding fun outfits for your patients can boost your overall score!
Features
A Variety of Animals: From fluffy bunnies to majestic elephants, treat a diverse array of zoo animals.
Educational Gameplay: Learn basic knowledge about animal care while having fun.
Creative Dress-Up: Unleash your creativity by exploring endless outfit combinations.
Vet Tools: Use cool veterinary tools to diagnose and treat your furry patients.
What are the best online games?