Fun Sisters Night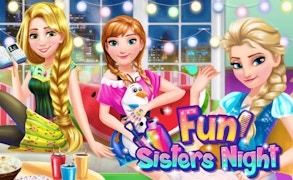 Fun Sisters Night
Welcome to our review of one of the most delightful entries in Games for Girls line-up, Fun Sisters Night. This game is an enchanting escape into a world of imagination where three beloved characters, Elsa and Anna from Frozen, and their cousin Rapunzel, engage in an evening filled with laughter, camaraderie, and fun games.
The premise of the game is simple yet captivating for fans of Princess Games. The three royal cousins invite players to join them in their sisterly bonding activities. From spirited group games to shared secrets whispered under fairy-lit tents, the magical environment sums up what makes these dress up games so engaging.
Fun Sisters Night is packed with varied gameplay options that set it apart in the realm of Hairdresser Games and makeup games. Players have the delightful task of not only participating in thrilling games but also grooming and dressing up these iconic princesses. Each character comes with her unique style allowing the player to experiment with countless combinations.
The development effort poured into bringing this enchanting night to life is evident in every detail. From the bespoke clothing options available for each character to innovative hairdos and makeup styles that can be applied, everything has been meticulously designed keeping young girls' preferences in mind.
In conclusion, whether you're looking for a title that offers great replay value or a game that mirrors your child's love for princess tales and dress-up fantasies, look no further than Fun Sisters Night. Dive into this unique blend of dress up and role-play experience that perfectly captures the essence of timeless princess stories while delivering hours of wholesome entertainment.
What are the best online games?