Fruit Paint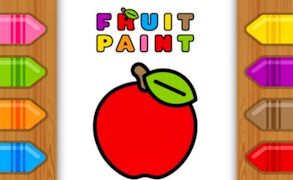 Fruit Paint
Welcome to the vibrant world of Fruit Paint, an enthralling application bringing the joy of educational games for kids right at your fingertips. This immersive game seamlessly weaves learning and fun together, serving up a delectable cocktail of color and creativity.
Perfectly tailored for budding artists, Fruit Paint is not just a drawing game; it's an art studio specializing in fruity fun! Encourage your child's artistic expression as they paint a myriad of fruits in a rainbow of colors. From apples to bananas, there's no end to the flavorsome fruit buffet waiting to be brought to life.
This innovative coloring game takes education beyond the traditional classroom, transforming learning into a thrilling adventure. The educational dimension of Fruit Paint hones not only your kid's coloring skills but also stimulates cognitive abilities, enhancing their understanding of different shapes, shades, and textures associated with various fruits.
The user-friendly interface and intuitive controls make Fruit Paint an absolute joy to navigate. There's no complex technical knowledge involved. Simply choose a fruit and let your child's imagination run wild with the color palette!
In conclusion, Fruit Paint beautifully fuses education with entertainment, serving as a perfect tool for parents seeking high-quality games for kids. It's more than just a game; it's a tasteful gift packed with learning and enjoyment that will keep your kid occupied for hours on end.
If you're in search of an immersive educational game that marries fun with fruit-filled learning, look no further. Unleash creativity like never before and dive into the delightful universe of Fruit Paint today!
What are the best online games?