Freaky Monster Rush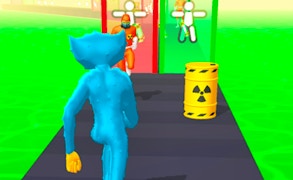 Freaky Monster Rush
Step into the world of Freaky Monster Rush, a thrilling addition to the arcade genre that's quickly making its mark in the realm of running games. This spellbinding game embraces an exhilarating concoction of adrenaline-pumped running, wacky monster transformations, and captivating obstacle courses.
In Freaky Monster Rush, you're not just playing a game; you're embarking on an adventure. You transform into the most eye-catching monster and engage in high-speed races that will surely keep your blood pumping. The game brilliantly combines components of monster games and running genres by allowing players to merge the DNA of each part of their monster runner limb by limb.
The objective? Masterfully evade barrels, knock back stubborn foes, and rush through the correct gates. It's never a simple run. It's a fiendish pursuit where only the skilled survive!
This isn't just one of those ordinary fun games, but a manifestation of a virtual adrenaline rush like no other! The graphics are jaw-droppingly impressive. Every monster is well-detailed, each environment teems with life and colour, making the challenge all the more exciting.
Navigating through each obstacle course is like maneuvering through uncharted territories infested with hair-raising challenges that are designed to test your gaming skills to their absolute limits. But there's no need to fret! Freaky Monster Rush also champions player progression; the more you play, the better you become at evolving your monstrous avatar and conquering the tracks.
To sum up, Freaky Monster Rush is a must-play for all arcade enthusiasts, running game lovers and monster transformation fanatics out there! So, buckle up gamers! Get ready for an unforgettable joyride packed full of thrilling action in this spectacular addition to monster games. Let's see who can create the most formidable freaky monster runner!
What are the best online games?