Four Colors World Tour Multiplayer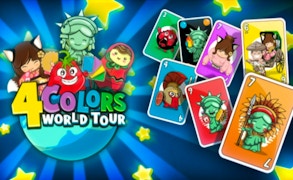 Four Colors World Tour Multiplayer
Unleash your strategic prowess and dive into the vibrant universe of Four Colors World Tour Multiplayer, an engaging HTML5 card game that stands out amidst other family games with its innovative features and immersive gameplay.
Fall into a world where the colors are more than just aesthetics. In the Four Colors world, match your cards by color or number to outwit up to three computer-controlled opponents. However, it's not just about matching; action cards throw open exciting possibilities, turning tides in your favor, making it one of the top brain games around.
All it takes is a little stratagem and a lot of fun to emerge victorious. But beware! Don't forget to hit that 1 button when you're down to your last card - a twist that adds an extra layer of thrill.
This dynamic card game brings with it three enthralling modes. The Multiplayer mode breathes life into your screen, letting you face players from across the globe - ideal for those seeking 2 player games.
If you prefer solo adventures, Play against the PC mode pits you against formidable AI opponents. Fancy challenging a friend? The Challenge mode lets you compete on the same device, putting a delightful spin on conventional fun games, making every round feel like a fast-paced tournament.
The captivating graphics will remind you of calming coloring games.
The blend of strategy and luck gives Four Colors World Tour Multiplayer an addictive edge that will have you coming back for more. It's not just a game; it's an exhilarating journey around a four-colored globe!
With this review, I hope that gamers searching for family games, coloring games, brain games, 2 player games and fun games would find their match in Four Colors World Tour Multiplayer.
What are the best online games?