Kiba & Kumba: Tri-Towers Solitaire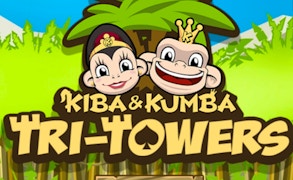 Kiba & Kumba: Tri-Towers Solitaire
Engage yourself in a thrilling world of card peaks with the exciting game called Kiba & Kumba: Tri-Towers Solitaire. This captivating game redefines the classic concept of solitaire games, transporting you into an exhilarating realm where strategy, skill, and a dash of luck come together in perfect harmony.
In essence, Kiba & Kumba: Tri-Towers Solitaire breathes new life into the card games genre. The primary objective is to clear all three peaks made of cards, evoking a sense of accomplishment as you see each tower crumble. But you can't just remove any card at will! Only cards that are lower or higher than the card at the bottom deck can be removed, which requires strategic decision-making and sharp focus at every turn.
The universe of this cool solitaire game is not just about playing cards; with Kiba & Kumba, it's about maneuvering your way to victory. Every single decision matters and each move can alter your fate. Can you identify viable strategies to dismantle the tri-towers? Can you seamlessly navigate through the complex landscape of cards?
The breath-taking design and user-friendly interface make Kiba & Kumba: Tri-Towers Solitaire a standout among other solitaire games. With its vibrant graphics, engaging gameplay, and captivating storyline, this game offers an immersive gaming experience that leaves players yearning for more.
This is no ordinary card game, it's a test of wit and strategy where only the smartest prevail. Whether you are an avid fan of solitaire games, or a gamer seeking challenging experiences filled with strategy and suspense, Kiba & Kumba: Tri-Towers Solitaire stands tall as a beacon of innovation within the genre.
Dive headfirst into this unique gaming journey where challenging card peaks await your conquest! Don't miss out on experiencing one of the most stunning and addicting solitaire games available today!
What are the best online games?
TAGS