Memorybot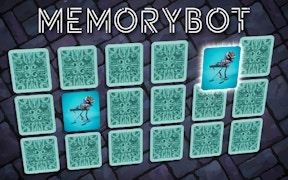 Memorybot
Description
Get ready for a stimulating online adventure with Memorybot. This game slips you into a mental workout by challenging your memory and speed. The gameplay involves beautifully hand-drawn animated cards, each designed to test your recall abilities. The goal is simple - match all the pairs of cards as quickly as possible. But remember, the clock is ticking!
How to Play
The controls for Memorybot are straightforward - use your mouse or touchpad to click on cards and reveal their content. Each round, you get to open two cards. If they match, they remain open; if not, they're flipped back over. Keep repeating this process until you've successfully matched all the card pairs. The faster you do this, the higher your score!
Tips and Tricks
To excel in Memorybot, try developing strategies like starting from one corner of the board and slowly working your way across in an orderly fashion. Also, practice patience! Rushing tends to lead to errors. Lastly, always aim for minimum flips; matching cards in fewer attempts bolsters your score significantly.
Features
Aesthetically pleasing: Immersive gameplay experience with detailed artwork.
User-friendly controls: Simple click-and-reveal mechanism.
Challenging yet fun: Suitable both for memory training enthusiasts and casual gamers.
Different difficulty levels: Choose how many cards you want in your game deck.
Mesmerizing soundtrack: Engaging music that enhances the gaming experience.
What are the best online games?
Tags