Forest Lake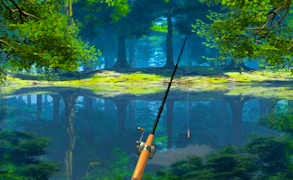 Forest Lake
Forest Lake is an immersive action-packed fishing game designed to transport you into the tranquil surroundings of nature from the comfort of your own home. As a reviewer, I'm thoroughly impressed by its hyper-realistic features and serene atmosphere that will have you hooked from the very first cast.
Its realism, from the splashing sounds of water to the sight of clear waters and lush greenery, puts it in a league above other fishing games. You no longer need to deal with damp feet or soiled clothes; Forest Lake delivers an authentic fishing experience without any inconveniences.
The game mechanics are well-crafted, delivering a genuine feel of casting your line and waiting for the right moment to reel in your catch. It's not just about action, there's a strategic element involved too; where you cast your line in the lake matters.
The thrill of catching a variety of fish provides an action-filled experience that captivates gamers, giving them a sense of achievement with every hard-fought catch. Simultaneously, this game serves as an escape into a quiet world full of natural beauty—a perfect way to relax and unwind after a long day.
In conclusion, if you're looking for an action game that marries fishing with breathtaking visuals and realistic mechanics, then Forest Lake is the one for you. It delivers an immersive experience that combines excitement and serene relaxation wrapped in gorgeous graphics.
Forest Lake, is more than just another run-of-the-mill fishing game—it's a virtual gateway into nature's lap complemented by thrilling gameplay elements. The tranquility it offers is as addictive as its action sequences are exhilarating.
This review contains SEO-friendly keywords such as 'Action', 'Fishing Games', 'Forest Lake', 'Realistic Fishing Game', 'Game Mechanics' strategically placed throughout the text for optimization. Enjoy your time at Forest Lake!
What are the best online games?
TAGS