Fly V2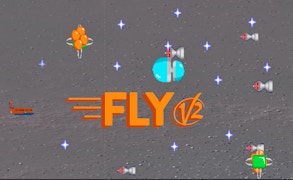 Fly V2
Description
Prepare to venture into a fast-paced, exciting arcade game, Fly V2. You control a plane and your objective is to collect as many stars as possible, all while navigating through the sky. The higher the number of stars collected, the greater your score. As you progress further into the game, the difficulty increases, challenging your skills and reflexes.
How to Play
The controls in Fly V2 are remarkably simple. Use your mouse or touch controls to guide your plane, ensuring it doesn't collide with any obstacles. The plane flies continuously and its speed increases over time. Your task is to guide it through a star-studded sky for the maximum score. Rise high in the leaderboard by collecting as many stars as possible.
Tips and Tricks
Keep in mind that flying at lower altitudes might make it easier to collect stars but also brings you closer to obstacles. Increasing speed can make guidance more challenging but also gets you more points quickly. Practice makes perfect in Fly V2, so consistent play will help improve your timing and precision.
Features
Dynamic Gameplay: Manage your speed and altitude changes effectively for a thrilling experience.
Increasing Difficulty: The game gets harder as you advance, keeping you on your toes at all times.
High Score System: Compete against yourself or others to secure the highest score.
Straightforward controls: Simple controls make it easy for anyone to jump in and play.
What are the best online games?