Floral Realife Manicure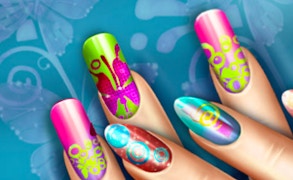 Floral Realife Manicure
Prepare for a whirlwind of creativity and color as we delve into the exquisite world of Floral Realife Manicure, one of the most entertaining games for girls that blends elements of makeup games and fashion games.
Floral Realife Manicure is not your average nail salon game, it's a full-fledged creative platform that lets your imagination run wild with endless design possibilities. A manicure is not just about painting your nails. It's an art, and this game truly embraces that concept.
The journey begins with an array of spa treatments, ensuring that those digital hands are as flawless and moisturized as possible. This takes you to a whole new level of skincare realism which does not only make the game more engaging but also educates on proper hand care. This fact alone sets Floral Reallife Manicure apart from other traditional fashion games.
Moving on, you'll be amazed at the variety of options you have for shaping your nails, proving that the game goes beyond being a simple part of the larger 'games for girls' segment. Offering everything from trendy oval shapes to bold square styles, the choice is entirely yours!
The real magic happens when you dive into the nail polish selection phase. A kaleidoscope of colors awaits your clicks; whether you're into classic reds or sassy neon greens, there's something to suit every taste. Moreover, there are scores of detailed patterns and generous amounts of glitters that can be used - all ready to make the nails sparkle like never in other makeup games.
In conclusion, Floral Realife Manicure sets a new standard for interactive and creative manicure-focused fashion games. It's engaging, it's fun and it allows players to express their creativity in endless ways. So ladies, why wait? Get those creative juices flowing with this splendid beauty game!
What are the best online games?